Slide 1 for luxury goods
Eliminate Deep Fakes
Boost Brand Loyalty
Counterfeiter's good days are numbered for luxury goods. HelixShield's ability to authenticate online and physical store purchase in real time means consumers can now enjoy the brands they love with the peace of mind.
Slide 2 for pharma
Save Lives
Recover $billions

Pharmaceutical and biotech companies have tried hard to curb the proliferation of counterfeit drugs with limited success. With HelixShield, their efforts are guaranteed to pay off: lives saved, revenue recovered, trust restored.
The HelixShield Technology
The HelixShield technology is built upon a novel DNA-based data encryption scheme. A covert 2D pattern, containing digitally encrypted data, is made of synthetic DNA and is stored in a miniature chip (HelixChip). Each HelixChip contains unique information that is easily trackable once the information is revealed. Once a chip is attached to a genuine product and the association is recorded in a private cloud (HelixCloud), the chip serves as the authentication token for that product only: if the chip is genuine, the product is genuine.
The authenticity of a HelixChip can be easily verified and tracked while the product navigates through the supply chain or at the time of purchase. It is done in a few seconds with a free smartphone app (HelixApp) and a small reading device (HelixReader), supported by the HelixCloud.
HelixChip
a miniature synthetic DNA-based chip that stores a unique serialized code after digital and DNA encryption and can be securely attached to a product to authenticate the product.
HelixReader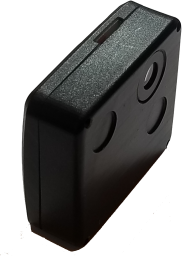 a small handheld device that is attached to a smartphone and decrypts a HelixChip in a few seconds after it is inserted.
HelixApp
a smartphone app that transmits data from a HelixReader to a HelixCloud to be verified and displays result.
HelixCloud

a private and secure cloud-based database that verifies and tracks data submitted by HelixApp.
Online Purchase Verification Becomes a Reality
HelixShield offers an innovative approach to address online purchase verification: since every genuine product has a serialized impossible-to-fake authentication chip attached, a buyer can request the seller to verify the chip and share result before making purchase. Upon receiving the goods, the buyer can confirm the result again. The chip can also serve as a proof-of-purchase for secondary sale or return.
End-to-End Authentication Eliminates Deceptive Counterfeits
One approach to eliminate deceptive counterfeits is to establish a one-on-one coupling between a genuine product and a serialized impossible-to-fake authentication chip and ensure the authentication chip is super easy to be verified in real time. Without an authentication chip, a product should not be distributed or purchased, period. To make money, a counterfeiter has to make fake authentication chips to be associated with fake products. The combination of DNA and digital encryption by HelixShield presents an unbearable burden to counterfeiters, thus eliminating deceptive counterfeit.
Why HelixShield?
The combination of the following strengths makes HelixShield the best authentication and brand protection technology in the market.
Unprecedented Deterrence
The HelixShield technology offers strong counterfeiting deterrence to businesses who have suffered for years, such as those selling pharmaceuticals, luxury goods, electronics, clothing and shoes, etc. With on-demand HelixChip manufacturing and delivery model, businesses can be assured that all and only genuine products have HelixChips attached, thus clearly differentiating genuine ones from counterfeits.
Authentication for Online Purchase
Counterfeiters have taken full advantage of the Internet at the growing expense of legitimate businesses. Luxury brands and pharmaceuticals are among the worst-affected sectors for counterfeits. It has been very difficult to verify that an online item is genuine, until now. HelixShield has a simple yet effective process to verify online purchases so consumers get what they want with the peace of mind.
Easy to Use in Real Time
HelixShield performs real-time authentication using small handheld devices. The authentication process is super simple: insert a HelixChip into a HelixReader that is attached to a smartphone with the HelixApp open; wait for a few seconds; take the HelixChip out, done.
Track and Trace
Each HelixChip contains serialized data about the product it attaches to. Each chip is unique and trackable. The HelixShield technology is fully in compliance with worldwide rules and regulations safeguarding the supply chain. Businesses can even detect diversion in real time with this rich data resource.
About Us
Our Cause
In today's inter-connected and fast-moving world, fake products, fake identity, and fake information are ubiquitous and abundant ...
Our Mission
Through unprecedented innovation in authentication, we help businesses improve bottom line and strengthen customer loyalty ...
Our Promise
For businesses, we promise the delivery of only genuine products to your customers. As a result, your businesses will thrive with enhanced brand ...
Our Values
The word TRUST represents who we are and what we strive for. Aided by our cutting-edge technology, we are the trustworthy partner ...